What I see Is What You Get
.
Sas Schilten ★ photography
..
What I see Is What You Get
.
★ sas schilten fotografie ★
…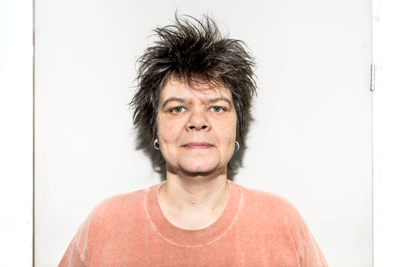 Ik sta altijd open voor werk in opdracht.
Stuur me een emailtje en dan neem ik snel
contact met je op.
I am always open to work on assignment
Please get in touch, I'll get back to you soon
sas schilten / sas enzo
postbus 667
5600ar eindhoven
kvk 17155150
sas [@] sasfotos.nl
About:
What I see is what you get ★ Sas Schilten (1969)
She is an engaged and social photographer with her roots in the '80s DIY punkscene when she expressed herself by playing bassguitar in a touring band.
"We had our view on society then and actually nothing has changed much since…, I just use another instrument to give tongue to it."
Although her images might give the impression to be staged, her approach is still true to documentary photography. With use of framing and flashlight her images appear as scenes from a strange reality. She hopes this gives the image the stopping power in the huge pile we consume everyday and that it will tickle a thought; … what am I actually looking at?
She wants to stress that images can be used in a powerful and manipulative way, hence it is important to be aware of the language images can speak.
Exposure:
september 2019 chosen as one of 3 runner-up images @magnumlearn #magnumheatwave competition
See the winner and 3 runner-up images at Magnum
14 november – 23 december 2018 – Gallerie Sehnsucht Rotterdam Winterreise: groepsexpositie 22 fotografen
8 februari – 11 februari 2018 – RotterdamPhoto met het Social Animals collectief; TRUTH – FAKE
9 februari – 12 februari 2017 – RotterdamPhoto Social Animals; groepsexpositie 5 fotografen
18 januari – 15 februari 2017 – Cacaofabriek, Helmond Over Leven; duo-expositie met Mike Harris
nov 2016 – in de selectie van New Dutch Talent 2017
23 juli – 7 aug 2016 – st. Olofskapel, Amsterdam Cafe 't Mandje – fun and respect since 1927
mei – juni 2016 – Cinemec, Utrecht eindexamenexpositie met GEAR15
18 -21 dec 2015 Beurs van Berlage, Amsterdam eindexamenexpositie met GEAR15
21 nov – 15 mei 2016 Beurs van Berlage, Amsterdam BEURS VAN BERLAGE IN 40 BEELDEN
Education:
Fotoacademie 2011-2015 – documentair fotograaf
masterclass beeldspraak – Ton Hendriks (2015)
2 daagse workshop DIY storytelling – Rob Hornstra (2015)
2daagse Workshop Risky Business (grantwriting) – Donald Weber (2016)
masterclass conceptueel portret – Rob Sas (2016)
Photography & Art direction – Tjade Bouma (Foto Academie Amsterdam) (2018)
Mijn foto's kom je onder andere tegen bij HIVOS, Baltan Laboratories, STRPfestival, VPRO3voor12(tilburg), VPROmedialab, De Zelfkrant, Volkskrant Magazine, Volkskrant Sir Edmund, De Correspondent.
Het recente werk in opdracht en eigen werk kun je terug vinden in het menu onder 'Opdrachten & Nieuws'